Interpreter's Photo ID Card
Registered interpreters are issued with a new Photo ID Card each year to prove their registration and identity.
This should be checked to verify identity, language and expiry date when the Registrant arrives for an assignment. Simply enter the Registration Number from the interpreter's Photo ID Card into the 'Verify Registration' search box alongside (or scan the QR Code if available, see below). If the interpreter's details do not appear, they are not currently registered. Please contact NRPSI if you have any queries.
This is what the front of the Photo ID Card looks like (since November 2013):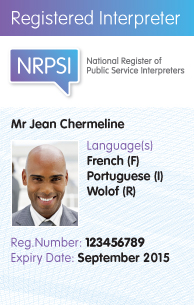 From early 2017, the reverse of the Photo ID Card displays a QR Code which can be scanned: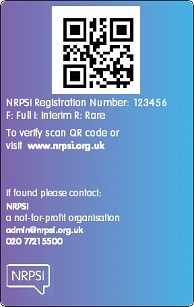 Scanning the Code has the same effect as entering the Registration Number in the Verify registration section of the website: it will go straight to the Registrant's record.
If an interpreter offers an alternative design of Photo ID Card to those shown above, it means they are not currently registered with NRPSI.
Languages can be registered at one of three statuses (shown in brackets after the language on the ID Card): Full (F), Interim (I) and Rare Language (R). For the definition of the statuses, visit our Qualifications and Experience Criteria for Entry page.